May
16
Wed
May Dinner Featuring The Great Climate Change Debate
May 16 @ 6:00 pm – 8:30 pm
On Wednesday, May 16th we'll be hosting our Dinner Meeting at the Fremont Hills Country Club
The Great Climate Change Debate Featuring Dr. Steven Hayward and Bill Shireman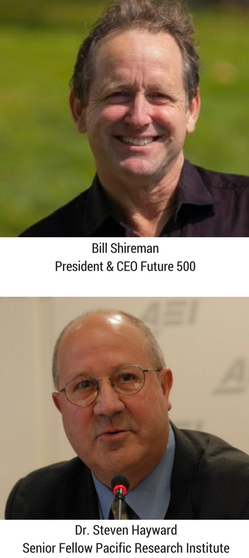 Bill Shireman is the President and CEO of Future 500, working with the world's largest companies and most impassioned activists. He also serves on the Board of the Lincoln Club of Northern California. As a registered Republican, he believes in free enterprise, but campaigned against the state's largest electric utility, and headed a California environmental lobby.  Today, he still likes to bring together forces from the left and right, and thinks that, by internalizing external costs, business and the environment can both thrive.
Dr. Steven F. Hayward, Ph.D. is the author of PRI's annual Index of Leading Environmental Indicators, a major study on the state of the environment. He also created a response to Al Gore's Inconvenient Truth, titled "Convenient Fiction." Watch it on YouTube.
Consistent with SPARC's tradition of civil discourse, you are invited to come hear these two accomplished men debate the issue of Climate Change.
RSVP: Purchase tickets online or make your check payable to SPARC and mail to:
P.O. Box 466, Los Altos Hills, CA 94023
Early-bird Price: $40 for Members; $45 for Non-Members; $25 for Students (w/ID)
After May 13: $45 for Members; $50 for Non-Members