When:
May 20, 2020 @ 6:30 pm – 7:30 pm
2020-05-20T18:30:00-07:00
2020-05-20T19:30:00-07:00
On Wednesday, May 20 we'll be co-hosting a special online briefing.
Chief Ron Lawrence, President of the California Police Chiefs Association, to provide an update on the Keep California Safe initiative.
Retailers, mothers, police, parole officers and more are sick and tired of Prop 47 & 57's negative impact on California.  They're saying enough to shoplifting, enough to early release of violent criminals, enough to repeat offenders.
SPARC is pleased to co-host this briefing with the California Congress of Republicans (CCR) and other chapters in the Bay Area. CCR President Peter Coe Verbica will provide introductory remarks. Those who have signed up in advance can access the video conference via Zoom on your computer, tablet, or smartphone. A link to the meeting will be sent by email.
Ron Lawrence was appointed to Chief of Police for the City of Citrus Heights in 2016 after having been promoted through the ranks with a variety of law enforcement agencies throughout Northern California. He serves as President of the California Police Chiefs Association, an organization that is active in the Coalition to support the "Reducing Crime and Keeping California Safe Act."  This measure will be on the California ballot in November. It expands the list of violent crimes for which early release is not an option; reinstates DNA collection for certain crimes that were reduced to misdemeanors as part of Proposition 47; revises the theft threshold by adding a felony for serial theft — when a person is caught for the 3rd time stealing with a value of $250; and requires the Board of Parole Hearings to consider an inmate's entire criminal history when deciding parole, not just his most recent offense; and requires a mandatory hearing to determine whether parole should be revoked for any parolee who violates the terms of his parole for the third time
Chief Lawrence has held numerous assignments throughout his career including court bailiff, jail deputy, patrol officer, field training officer, motorcycle-traffic officer, street-crimes-vice, internal affairs investigator, personnel & training, watch-commander, division-commander and many others. He holds a Bachelor of Arts Degree in Criminal Justice from the Union Institute & University, and a Master of Arts Degree in Leadership from Saint Mary's College. Chief Lawrence is a graduate of the F.B.I. National Academy in Quantico, Virginia, and is a graduate of the California POST Command College for law enforcement executives.
Register for the Briefing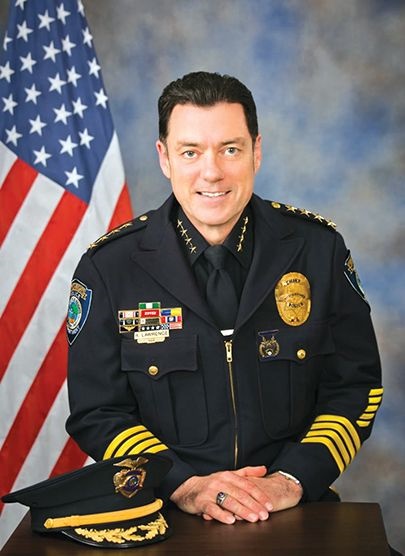 This online briefing is only available to guests who registered in advance.
Questions?
Call 848-GO-SPARC (848-467-7272)
or email sparcgop@gmail.com